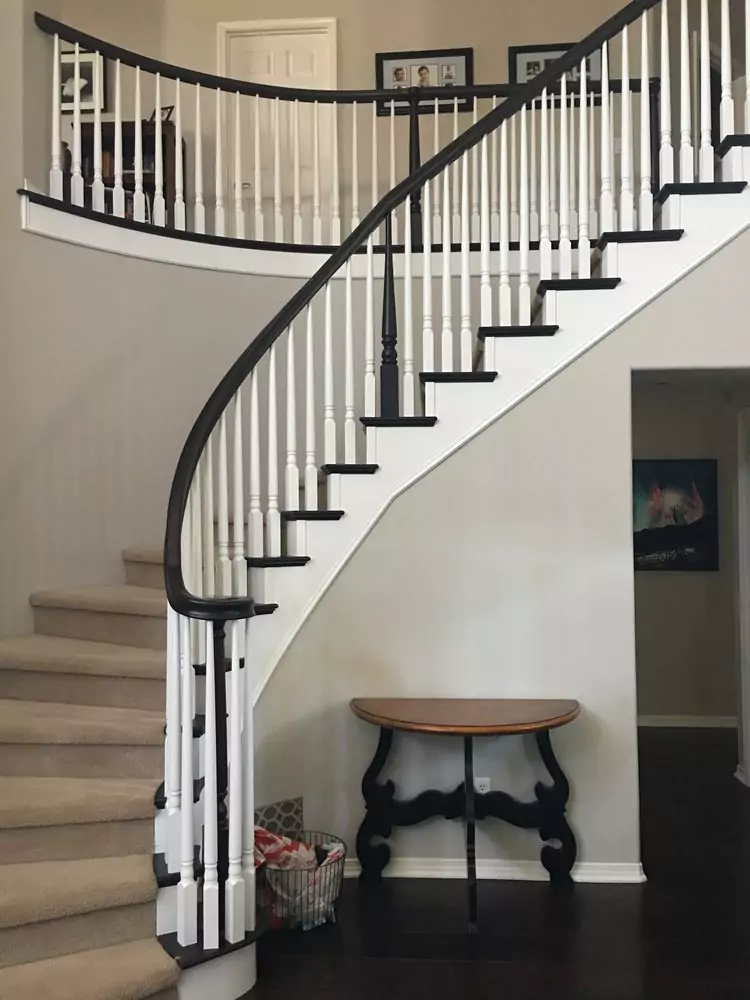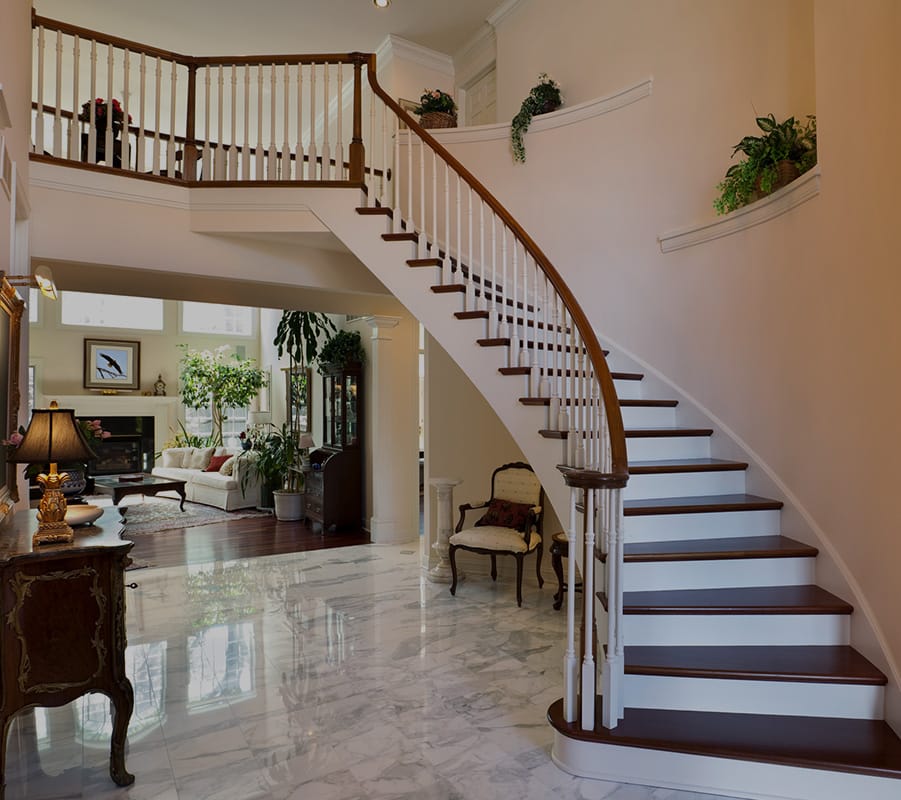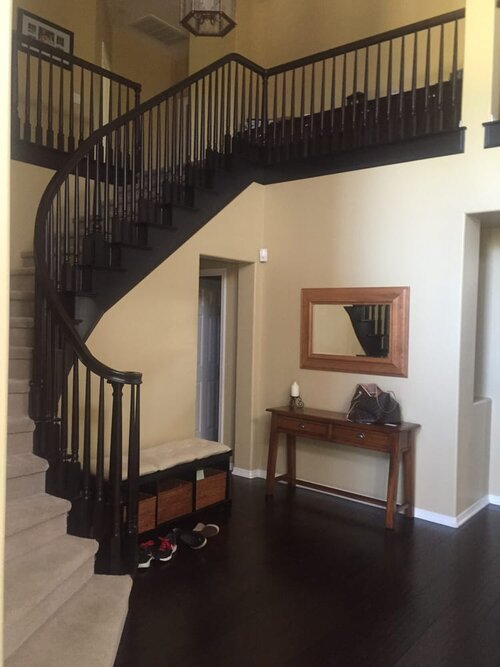 Although the kitchen my be the heart of the home, usually the first thing you or your guests may see, is your staircase. Since the very beginning of Cabinet Refresh, we have been refinishing staircases Los Angeles large and small. If you have a wood staircase that is a little drab and outdated, Cabinet Refresh can help!
Many of the multi story homes in the Southern California area have an oak or maple staircase that may be a little out dated due to the finish. Many of them have matching skirting, risers, and side treads. Since this is more of a permanent fixture with a house, perhaps the floors have been updated, and other finishes updated, the dated staircases Los Angeles may also need to be updated, Cabinet Refresh can help!
In the past several years the Cabinet Refresh has been painting and staining and doing other fine finishes for the Southern California market, we have seen trends come and go. For instance around 2012 almost every project we were working on was to stain cabinets or staircases Los Angeles Espresso color. Immediately as the Espresso phase waned, 'white' became our bread and butter work, everyone wanted a white kitchen! After white, came the 'greys', this still continues today. As strong and as popular as ever, however, we have seen the greys lean more towards a 'greige' scale in terms of coloration.
After the greys, we have seen a big revival of green. We used to do, perhaps, one green job every few months, definitely on a periodic basis, until there was a time I remember recently we did 6 green jobs in one month! Who knows what will be next.
In terms of staining, the trend, when we began, was Espresso, as mentioned, and Cherry (lots of reds), this turned into Black and Walnut.
These are translucent finishes, where the base color bleeds through. In old days, and in fine furnishings, the first or 'base' coat would be something striking, like Amber, almost neon, on it's own, then another coat of stain would go over it, and this 'layering' would give life, dimension, and depth to the article being stained.
Water based stains are very good these days, there are stains that are also designed for exterior, which have UV stabilization, we will also use those in homes with lot's of windows to minimize fading from the sun. For staining, Cabinet Refresh uses dye stains and wiping stains, all water based, for the most part. Dye stains are great for woods with closed grain, like Maple. In order not to hide the grain, using the dye stain is a good practice as it (dye stain) has a much smaller color molecule than regular wiping stain. If the molecule of dye stain were an 'egg' size, the molecule of a wiping stain would be an 'elephant'. This could, and does often, look blotchy on closed grains, like Maple or Birch or Beech.
The process of staining usually also includes a toning process. Since doors are made of many pieces of wood, that means a kitchen can be a mixture of many woods, from different climates, and although they are the same species, may in fact be all different colors when put together, even if the exact same process was used. This is where we tone everything to blend the color. Consider it more like airbrushing.
A very good line of stains that Cabinet Refresh uses is General Finishes. This is an American company that really has great products and great support. We also use some products that are catalyzed, which are two components, a base product, and a catalyst for hardening, you will find this more in the commercial or high use areas.
Paint
This is a wide net terminology. First of all, since Cabinet Refresh is in Southern California, everything must be low VOC (Volatile Organic Compound) or 'low fumes'. As it turns out, most of the staircases Los Angeles research and development done on paints and finishes over the past couple of decades, has gone into water based finishes, and, I am of the opinion, that water based finishes are better than the solvent based finishes, at this point. Solvent and oll based finishes, you will find, have a tendency to yellow over time, and water based do not have the same degree of yellowing, I cannot say they 'don't yellow, but certainly not to the degree of the solvents and oil based products.
Often times customers will call and mention that they want 'white lacquer', this is usually just more about the 'look' than about the product used. The good news is that we can easily give the lacquer look with water based products that will be as durable, and will not have the tendency to yellow.
Glazing
Glazing is a process to ad translucent, dramatic color lines, or shading, after the initial staining or painting process. For instance, if you have Maple, which doesn't have much grain, and is a little darker in stain color, you may want to add glazing to enhance a grain look. Even on stain, this will enhance the grain pattern if applied correctly. Glazing has been used to even make paint look like stain, and to enhance detail lines on hand rails and cabinet doors and moldings.
Perhaps your particular situation is that you have updated your floors and other finishes, and still have a golden oak or maple staircases Los Angeles and it needs to be updated. This is where Cabinet Refresh shines! Some very popular color combinations are black stain on handrails and posts, while having the spindles painted white. Personally on my staircase, I am painting the staircase, spindles and treads Matte Black (Tricorn Black by Sherwin Williams). This is a catalyzed product we carry.
Cabinet Refresh can also help you by matching the staircases Los Angeles skirting and risers to be the same color, or alternate color. Cabinet Refresh sprays all finishes with HVLP and air assisted sprayers, which atomizes the finish beautifully to create a smooth, silky feel to the touch.
Remember, all good finishes really need to be sprayed to attain evenness and to avoid brush or roller marks.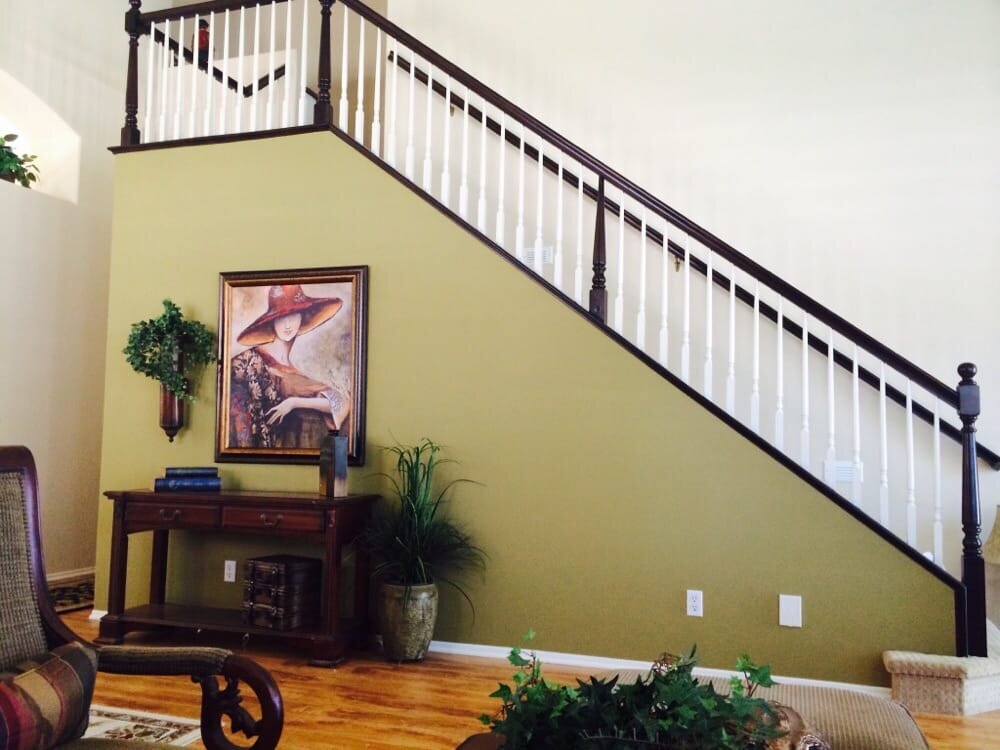 Residential refinishing is more than just a project. It is a relationship we take seriously.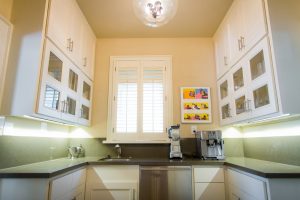 Highlight is waking up. And they are waking up to the fact that you don't have to...
read more
It's time you loved your cabinets again! Call us now for your free, in-home consultation.