Just a few short years ago, Cabinet Refresh took shape and we grew fast! From the beginning, we believed that if you do your best with the small things, bigger things would come. To this day, our company believes that every detail matters. That's how we earned a Super Service award within our first 5 months on Angie's List and with that same dedication to detail, quickly won a major contract for a golf course community of over 300 kitchens to refinish.
Cabinet Refresh has now won the Angie's List Super Service Award 2 years in a row and the rewards keep coming. We have served over 2,000 clients in the Los Angeles area ranging from small cabinet refinishing and renewal jobs to major house upgrades in Malibu, Agoura, and Westlake Village. We have re-colored or re-surfaced every type of wooden surface in residential and commercial spaces across Southern California and Austin ranging from kitchens to bathrooms, garage doors to front doors, staircases, window frames, and the list goes on.
But it's not just about the job. We care about the protection of your family, your staff, your customers, our workers, and the environment. Since restoration and refinishing is our specialty, we carefully utilize only the best materials, making sure that they are as non-toxic as possible (low or no V.O.C.) and that your investment lasts. Working almost exclusively with General Finishes products, we go the extra step by applying nearly all of our finishes horizontally when possible, spraying with 4-stage turbine HVLP sprayers for the richest texture and color distribution, and drying on horizontal drying racks.
From the products we use to the product we deliver, you can be sure our quality stands above the rest. We love what we do and we think you will too.
---
The Team
---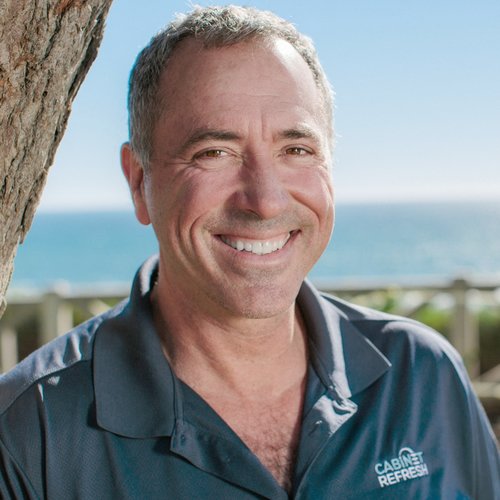 SCOTT VIERS, FOUNDER
When Scott could not find a good resource for cabinet refinishing, he surrendered his weekends to trying out new techniques himself and making samples until Cabinet Refresh was born. An architect-enthusiast with a countertop design background, Scott spends his free time mountain biking with friends, reading, and traveling the world. He currently travels between South America, California, and Texas.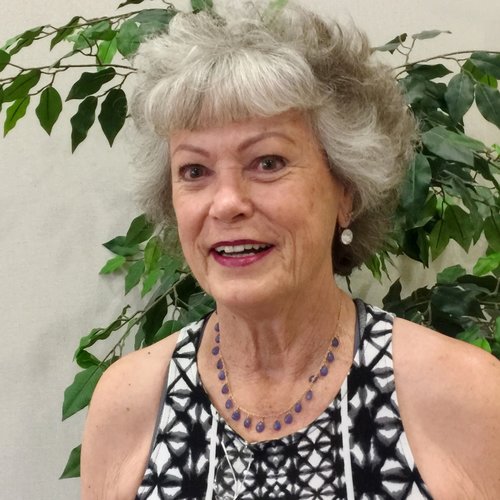 CAROLE VIERS, GM
Carole's lifetime experience in the construction field has seasoned many acquisitions of high-level clients and now propels her as she brings the Cabinet Refresh touch to locations in both Southern California and Texas. Residing in the Austin, Texas area, Carole enjoys experiencing the local culture, from good barbecue to kayaking on the San Gabriel and hanging out with her cat Murphy.
Who We Are
Cabinet Refresh is a family owned cabinet refacing Los Angeles business specializing in refinishing, refacing, staining, and 'painting' of
cabinets, staircases, front doors, garage doors, etc. Cabinet Refresh is fully licensed, insured, fully
compliant with the State of California regulations and requirements.
We truly enjoy what we do, and never get tired of hearing clients tell us how happy they are with their
kitchens. Cabinet Refresh was birthed out of a need that we had identified in the market, that we could
not see anyone bridging. We decided to jump in!
Cabinet Refresh is a Los Angeles based specialist in refinishing and refacing. Early on in our inception
we focused on practices to minimize mess, minimize time, and minimize disruption for our clients, and
give them the kitchen of their dreams.
With a background in the countertop industry, Scott saw a need for professional cabinet refacing Los Angeles and
re facers.
While selling and installing countertops years ago, nearly 2 out of three clients would ask, "now that my
countertops look so good, what can I do about my cabinets?". Scott started looking for good refinishers
in the market, and created relationships, and sub contracted projects to these people, but many times he
was not satisfied with processes or with the final outcome.
After some time of this, Scott decided to learn everything he could about refinishing and refacing of
cabinets, staircases, laundry rooms, front doors, bathrooms, windows, etc.
Scott started by going to refinishing and woodworking expos, namely the annual show in Vegas for
woodworkers and finishers. He bought an Apollo sprayer, determined the best finish products to start
with, and then it began.
Scott's weekends and evenings were spent loading up on old, damaged cabinet doors from Habitat for
Humanity, and refinished those as props for home shows and to show clients. Scott became obsessed
with finishing and developed many processes and end products to show clients for the greater Los
Angeles market.
Needing practice, a current client needed a drawer front to match an existing kitchen with a custom
finish, Scott did the project, and it turned out that client owned a golf course community with 300 homes,
and was looking for a contractor to reface and re stain all of the kitchens. This was the official brith of
Cabinet Refresh.
For the next 2 1/2 years, Cabinet Refresh completed 3 kitchens and bathrooms per week for this cabinet refacing Los Angeles client.
Having that as a base of income, Cabinet Refresh was able to expand and standardize their processes
to market finishing and refacing at an affordable rate in the greater Los Angeles area.
Starting to expand their client base, the word spread and the business started growing. Next thing you
know, Cabinet Refresh was winning awards from Angie's list (now Angi), Houzz, and Yelp. As the word
spread, and the business expanded, Cabinet Refresh bought a building, which is now the base of
operations.
Our company culture was one of 'constant and never ending improvement'. Cabinet Refresh hires
people that have a sense of pride in their work, that care about the customer. Most of our reviews
actually mention what a good experience the customer has had with the employees.
Since Los Angeles is one of the toughest and most demanding markets in the world, Cabinet Refresh
had to make sure that the products they were using were well received in the market. Since there are
strict VOC regulations, plus clients that do not want toxic fumes, Cabinet Refresh had to find the most
durable, low VOC products available. Most of them are American products, some are Italian. We only
use products that are low in VOC and highly durable.
At this point, our customer base has been everything from celebrities, hotels, restaurants, doctor's
offices and laboratories. However, most of our clients are average Greater Los Angeles homes, condos,
and townhouses. We also have had some notable 'historical renovations', there are some properties that
fall under the Mills Act and have to stay architecturally consistent with how they were built.
Early on, many customers wanted a one stop shop for a full kitchen makeover, including countertops,
backsplash and plumbing. Cabinet Refresh started handling all those items, through strategic
partnerships, and we were, in most cases, able to do entire kitchen remodels in a 2 week period.
Many of our clients started out just switching out their appliances and ended up needing modifications to
existing cabinets, some of our clients have experienced a flood and need repairs, others are moving into
a new home that needs updating, Others need their homes look better for sale.
Although we are based in Los Angeles, our market goes to the South Bay, Thousand Oaks and
Westlake Village, north to Santa Clarita and Valencia, East to Pasadena and the San Gabriel Valley,
and South to Long Beach and Orange County.
What you can expect when we arrive to do your project is we spend a lot of time protecting what you
have. We work very organized and clean. We cover floors, countertops, all access areas and work
areas. We strive to keep your home in regular working order, so that you have access to your
refrigerator, sink and cooktop during the course of the project.
What Cabinet Refresh hears all the time, is that customers normally are expecting a much more invasive
project, but are pleasantly surprised at how orderly and clean it was.
Cabinet Refresh is gets most of their customers from previous customers, referrals, and reviews. We
have a sales team, shop team, management team, and job crew team. If you need any refinishing,
refacing, staining, cabinet painting, or even historical restoration, please give Cabinet Refresh a call!
We love what we do, we want to help you with your cabinet refacing Los Angeles project. By all means, please remember to call
Cabinet Refresh whenever you have a kitchen to refinish or reface, a front door that needs freshening
up, maybe you need a new wall unit in your entertainment room, or bathrooms refaced. Just remember
Cabinet Refresh in your search and don't forget to tell your friends!
Thanks for reading!